Darrowville: A Forgotten Community in Hudson Township
by James F. Caccamo
Ex Libris, December 1979 Vol I, No. 4
Long-time residents of Hudson may recall where and what Darrowville was, but many residents of Hudson have no idea that there was once a thriving farm community between Stow and Hudson on Ohio Route 91. In Stow, however, the memory is still distinct. It is very common for residents to refer to northern Stow and southern Hudson Township as Darrowville.
Darrowville was primarily in Hudson Township. Most of the community lay between Barlow Road and the Stow Line. The remainder of Darrowville lay south of the Stow line, extending down a little past where the Stow Retail Park currently is.
Many of our readers may be surprised to learn that until Darrowville's demise in 1958, it rivaled Hudson Village for the right to be called "Summit County's oldest community." Joseph Darrow was part of David Hudson's surveying party in 1799. Like David Hudson, he brought his family to the area in 1800. Instead of settling in the center of town, Darrow formed his own little community on the south border of the township. This community was originally called "Darrow Street." At the same time, Darrow began his survey of Stow Township for Joshua Stow. He built his homestead near the intersection of what is now Norton Road and Ohio Route 91.
Darrowville was predominantly a farm community. The farmers considered themselves very progressive; thus, when the Grange movement began to sweep America's agricultural communities, Darrowville followed suit. In 1874, seven years after the start of the Grange movement, the Darrow Street Grange was established. [For a detailed story of the history of the Darrow Street Grange, see Stow, Ohio: Shadows of Its Past by Peggie Sitz James.] In 1949, Darrowville had its biggest celebration—the Diamond Anniversary of the Darrow Street Grange. The Library has a copy of the celebration booklet in our files. The Grange is, incidentally, still in existence even though Darrowville itself has ceased to exist. Many residents may have fond memories of the Grange's traditional Thanksgiving dinner, an event that hasn't taken place in recent years.
While the Grange might have been Darrowville's most prominent organization, there is another landmark that is associated with the community of Darrowville. This is Maple Lawn Cemetery on Ohio Route 91. Not only are many prominent Hudson and Stow citizens buried there, but it also has served as a focal point for many social groups, the most prominent being the Ladies' Benevolent Society (1885-1897), the Darrowville Ladies' Cemetery Association (1897-1961), and the Darrowville Friendship Club (1961-date). Maple Lawn was taken from private hands and turned over to the City of Stow for administration in 1961. Here too, Peggie James' book is an invaluable reference.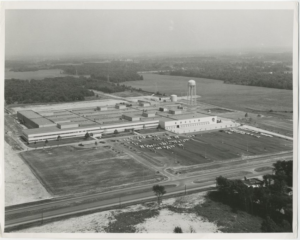 Various events signaled the demise of Darrowville. In 1958, the U.S. Postal Service closed the Darrowville Post Office. When Stow Township incorporated itself as the City of Stow in 1960, the portion of Darrowville that lay within the Stow border assimilated. When General Motors built the Terex Plant in the late 50's, it not only destroyed Mid City Airport, but also permanently altered the character of the Darrowville area. The widening of Ohio Route 91 destroyed many landmark buildings and ruined the tree-lined sense of community along the road. The subsequent commercial development of the area completed the change in the sense of community. Many well-known farm/businesses, such as Darrow Popcorn Farm and the various turkey farms, have passed into history. All that remains is a memory of a community and a habit in Stow to refer to the area as "Darrowville."